Local SEO Qatar Services Does your website need to be found on local Google searches?
Local SEO is the process of optimizing your online presence to attract more business from relevant local searches. This includes optimizing your website, as well as your listing on directories and local-oriented websites such as Google My Business. By optimizing for local search, you can improve your chances of appearing in the top search results for relevant local searches, which can lead to increased traffic and sales for your business.
Request A Quote
Search Engine Optimization Qatar (SEO Qatar) Services
How Local SEO
Works...
1- Search engines use algorithms to determine the relevance and authority of websites and web pages. These algorithms take into account various factors, including the content of the website, the structure of the website, the number, and quality of external links pointing to the website, and the user experience.
2- When someone searches for a product or service in a specific location, search engines use the location information to show relevant, local results. For example, if someone searches for "pizza near me," search engines will show results for pizzerias in the user's location.
3- To optimize your website for local search, you need to include local keywords in your website content and meta tags and ensure that your website is structured and organized in a way that is easy for search engines to understand. You should also ensure that your website is mobile-friendly, as more and more people are using mobile devices to search for local businesses.
4- In addition to optimizing your website, you should also claim and optimize your Google My Business listing, which is a free listing that appears in the local pack of Google search results. You should also get listed in local directories and citation websites, such as Yelp, Yellow Pages, and Qatpedia. These listings provide additional information about your business and create backlinks to your website, which can help improve your local SEO.
5- Encouraging customer reviews can also help improve your local SEO. Positive customer reviews on local directories and review websites such as Google, Yelp, and Facebook can help improve your credibility with potential customers and signal to search engines that your business is trustworthy and relevant.
By following these strategies, you can improve your local SEO and attract more business from relevant local searches. It's important to note that local SEO is an ongoing process, and it may take some time to see results. However, the long-term benefits of a strong local SEO strategy can be significant for your business.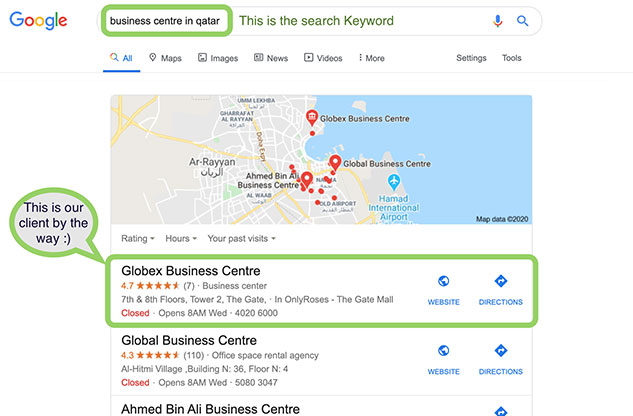 Here is an example of a local keyword. The keyword being searched for is 'business centre in qatar' – although this is more of a phrase than a word, the search term is known as a 'keyword'.
why you should choose
New Waves SEO Qatar..
There are several reasons why you should choose to work with New Waves SEO Qatar company:
1- Expertise and experience: Our SEO professionals have the expertise and experience to develop and implement effective SEO strategies that can help improve a website's ranking in search results.
2- Time and resources: SEO can be a time-consuming and resource-intensive process, and working with the New Waves SEO company can help free up time and resources for other business activities.
3- Specialized tools and software: Our SEO professionals have access to specialized tools and software that can help with keyword research, website analysis, and other aspects of SEO.
4- Ongoing support and maintenance: SEO is an ongoing process. The new Waves SEO company can provide ongoing support and maintenance to help a business maintain and improve its search engine rankings.
5- Measurable results: Working with New Waves SEO company can help your business track and measure the results of its SEO efforts, allowing it to make informed decisions about its marketing strategy.
Overall, working with New Waves SEO company can help your business improve its online presence and drive more traffic and sales through search engine optimization.
Read more details about Google Analytics here.
Search Engine Optimization Plans.
SEO plans are typically structured to include a range of activities that are designed to improve a website's ranking in search engine results. These activities may include:
Keyword research: Identifying the most relevant and popular keywords to target in SEO efforts.

On-page optimization: Optimizing the content and structure of a website to make it more search engine friendly.

Off-page optimization: Building high-quality backlinks to a website to improve its authority and ranking in search results.

Local SEO: Optimizing a website's presence in local search results.

Content marketing: Creating and promoting high-quality, relevant content to attract and engage visitors to a website.

Technical SEO: Optimizing the technical aspects of a website, such as its site speed and mobile compatibility, to improve its ranking in search results.

Tracking and reporting: Using tools such as Google Analytics and Google Search Console to track the performance of SEO efforts and provide regular reports on progress.
Get A Free SEO Analysis
Receive a free website analysis for your website and speak to someone about how to improve your search engine rank and increase the traffic flow to your website
Click here for a free seo analysis
Receive a free website analysis for your website and speak to someone about how to improve your search engine rank and increase the traffic flow to your website Get A Free SEO Analysis