Journey back a few years, and the thought of filming content vertically was laughable at best. Maybe you would use vertical video for your kids' soccer game, but the idea of established videographers using their time and expertise to produce a vertical video was ridiculous. Then came Instagram Reels and TikTok, platforms that not only allow vertical videos but demand them. Now, vertical video is essential. If you only have one camera, you might use it to make a vertical video instead of something horizontal for a more traditional video platform.
Have you tried posting a horizontal video on IG Reels or TikTok? It's ok if you say yes, but let's talk about how to film for Instagram Reels and TikTok.
How to Shoot Your Video
It might seem like all you have to do to shoot a fantastic vertical video is point your camera and start recording; however, just like most things in the social media world, it is not quite what it seems.
Of course, you do have to:
Choose your subject
Open Instagram, Tik Tok, or Camera App
Keep your phone vertical
Click record
However, all of this is just barely scratching the surface. Once you've posted your first few videos and gotten comfortable with filming, the following steps will be to start utilizing more of the tools that your phone and the platforms provide.
Adjusting Your Phone Settings For Better Video
Your phone (most likely) is equipped with a compelling camera, and even if it can't shoot in 4K, it can still produce a great video with a few tweaks of the settings. Below you will find screenshots of the Camera/Video settings for Android and iPhone that you can change to get crisper videos.
Android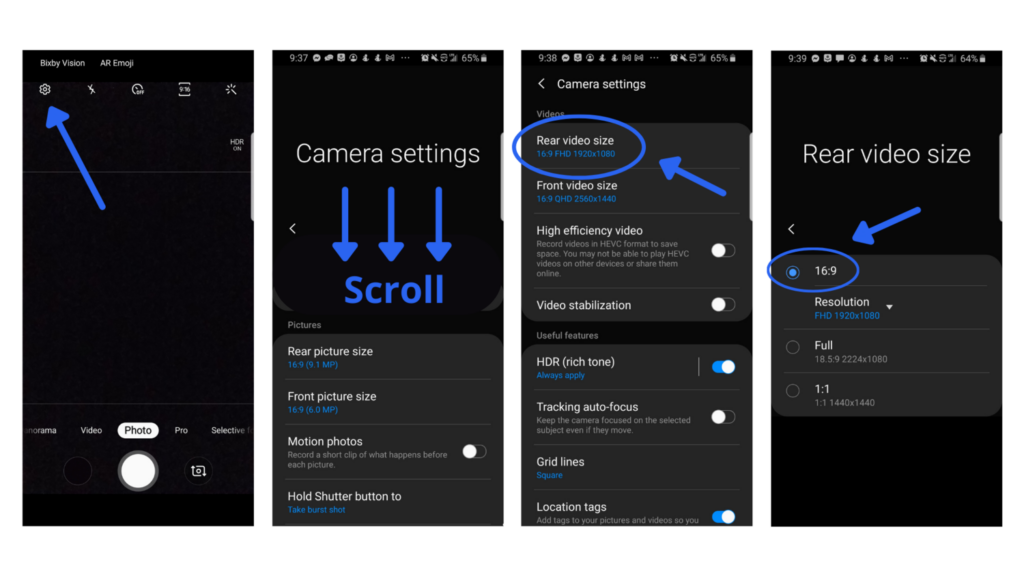 iPhone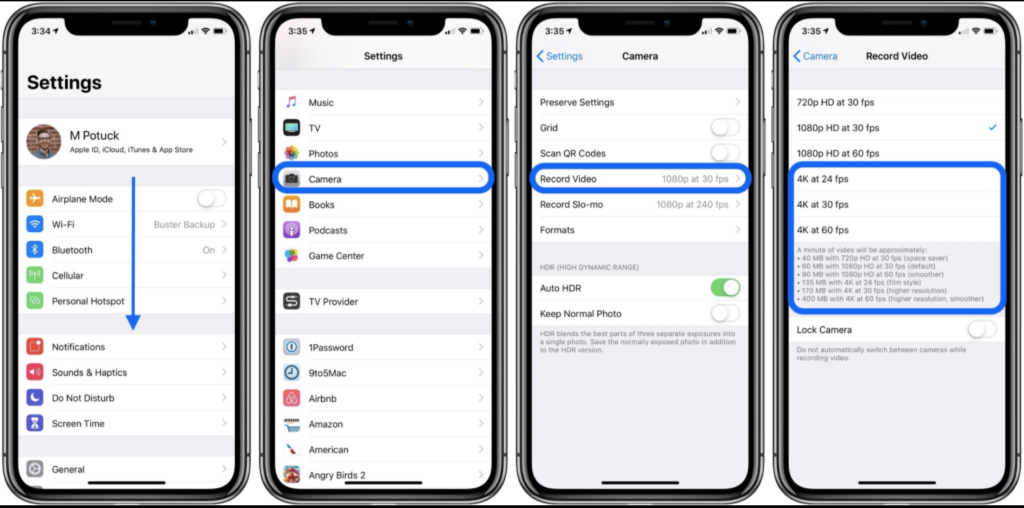 Editing in IG Reels and TikTok
Editing is what can turn an "ok" video into something someone wants to share, like, and watch over and over again. Instagram and TikTok have equipped creators with all of the basic and advanced tools they'll need to accomplish this. Below you'll find videos that walk you through the editing features that each site provides:
EDITING IN IG REELS:
EDITING IN TIKTOK:
How to make a TikTok video
Tap the + sign at the bottom of your screen. You can also tap Create a video on your profile page.
Use a pre-existing video from your Camera Roll, or start filming by tapping the red Record button.
If you are recording, you can choose whether to make a 15-second, 60-second, or 3-minute video. TikTok now allows you to upload up to 10 minutes of video.
Trim the length of your clips by tapping Adjust Clips on the right-hand menu.
Add music by tapping the button at the top of the screen. TikTok will recommend tracks based on the content of your video, but you can also use the search bar to find other songs or sound effects.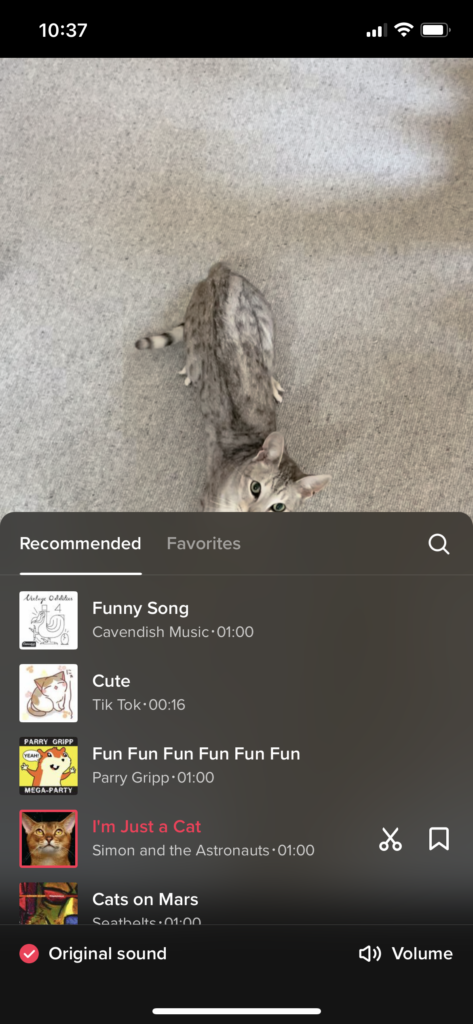 Add effects, stickers, or text

 to your videos by tapping the options on the right-hand menu.

If your video contains speaking, add captions to improve accessibility.
Once you're done editing your video, tap the red Next button at the bottom of the screen.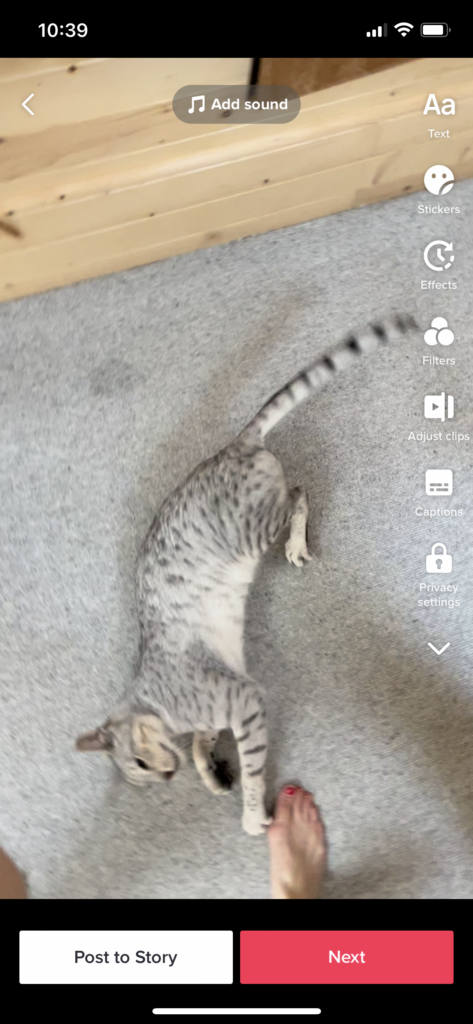 Add hashtags, tag other users, and adjust settings like Allow Duet

 (which allows other users to create a split-screen TikTok using your video) or 

Allow Stitch

 (which lets them edit clips of your video into their own). You can also tap 

Select cover

 to adjust which still of your video appears in your feed.

Hit Post! You did it!
How to make a TikTok with multiple videos
Tap the + sign at the bottom of your screen.
Tap Upload on the bottom right. Then select Videos at the top of the screen to filter for the videos in your Camera Roll. You can add multiple clips or include a mix of photos and videos!
Select the videos you want to include, to a maximum of 35 videos. Tap Next to continue.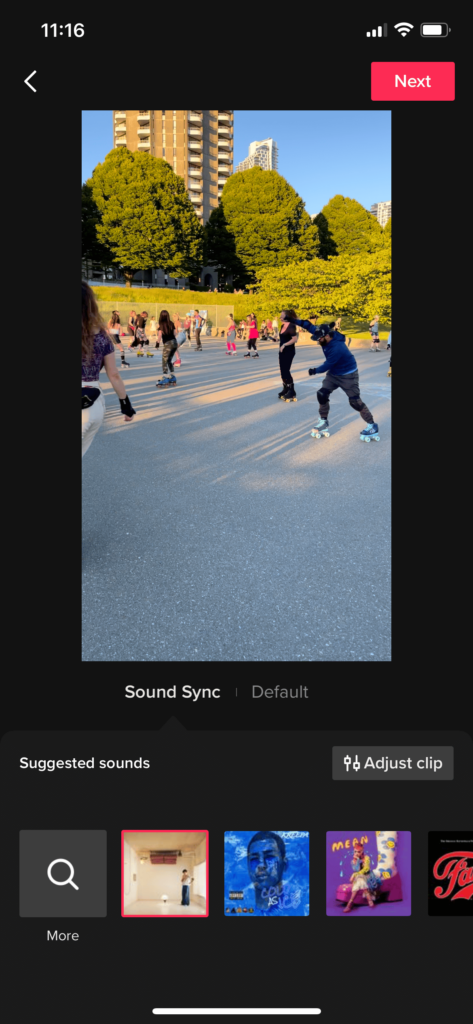 From here, you can add video effects, stickers, and text. Try Noise Reducer if your clips have a lot of background noise.
You can also add a voiceover. This will be layered over the original sound in your video clips or the track you selected.
Hit Post and start sharing!
How to make a TikTok with pictures
Tap the + sign at the bottom of your screen.
Tap Upload on the bottom right. Then select Photos at the top of the screen to filter for the photos in your Camera Roll.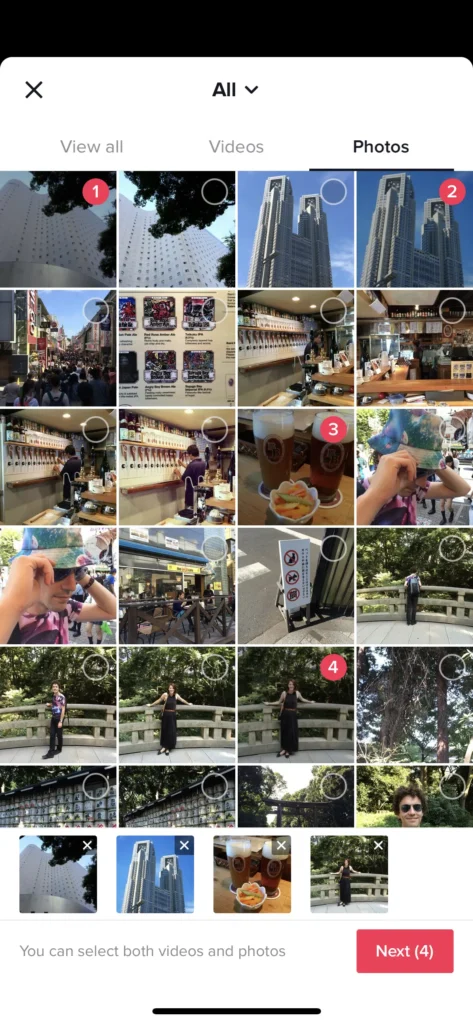 Once you have all your photos, hit Next to add music, effects, stickers, and more.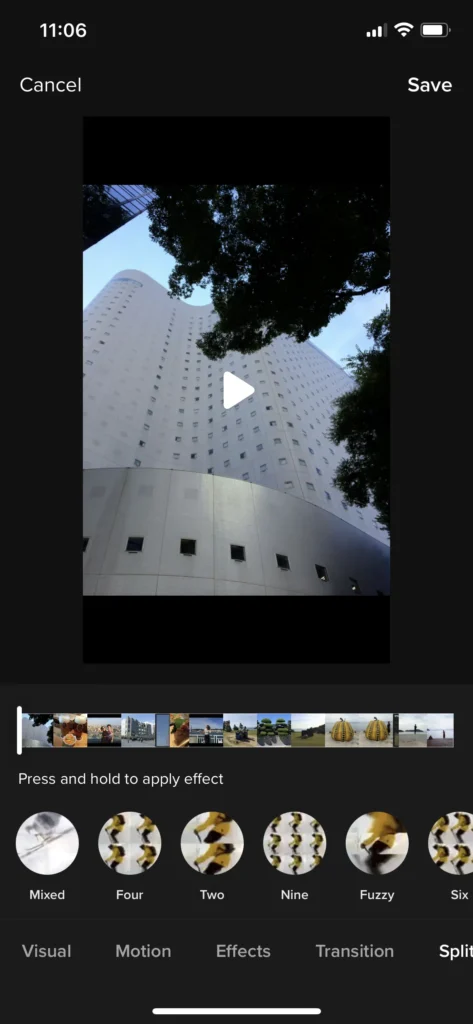 Your photos will display in Video Mode, meaning they'll play in order. You can switch to Photo Mode, which allows users to toggle between images like a slideshow.
You can select a song or sound effect by tapping the music button at the top or pressing Voiceover to record an audio track to accompany your images.
Once finished, add your caption and hashtags, tag other users, and edit your video settings.
Hit Post and start sharing!
How to make a 3-minute TikTok
There are three easy ways to make a 3-minute TikTok video. The first way is to record it in the app:
Tap the + sign at the bottom of your screen to start a new video.
Swipe to select a 3-minute recording length. You can stop and start your recording by tapping the red Record button.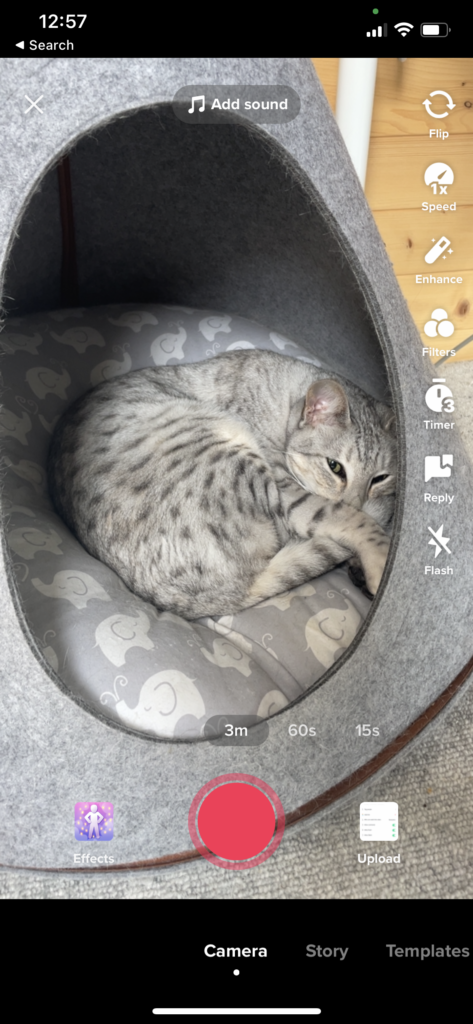 Once you have 3 minutes of footage, you can add your video effects, music, voiceovers, and more.
The other option is to upload video clips and edit them together.
Tap the + sign at the bottom of your screen.
Tap Upload and select your clips. You can choose more than 3 minutes worth of clips!
On the next screen, tap Adjust Clips. You can trim and reorder the individual videos from here until you've got 3 minutes in total.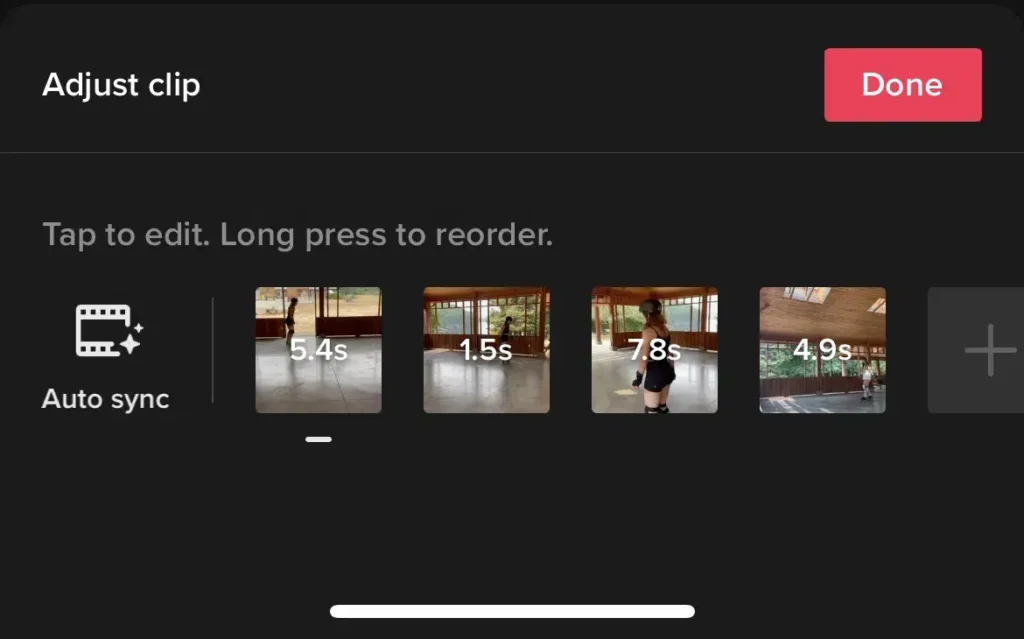 From here, you can add video elements like text, stickers, effects, and more.
Lastly, you can upload a pre-edited 3-minute clip. Several excellent video editing tools for TikTok offer features like custom fonts and unique effects.
7 things to know before creating your first TikTok
Use trending songs or audio clips. Music is a massive part of TikTok; many users explore the platform and discover videos through audio. Likewise, the original audio is often the basis of a TikTok trend (like this "cha-ching" effect). Adapting it for your content can help you reach a bigger audience.
Start strong. The first few seconds of your video are the most important. Either the user will keep right on scrolling, or you'll capture their attention. According to TikTok, 67% of the best-performing videos have their crucial message in the first three seconds. So make sure you're getting to the point!
Add hashtags. Hashtags are a huge part of how content is organized and discovered on TikTok. It's trickier to find trending hashtags now that TikTok has replaced its Discover tab with a Friends tab. But you can find some on TikTok's Creative Center or by exploring the app.
Don't stop at one! Posting regularly is the key to success on TikTok, so don't just drop one video and wait for the Gen Z tastemakers to come to you. TikTok recommends posting 1 to 4 times daily to determine what content resonates with your audience. To make your daily posts count, check out the best time to post on TikTok.
Don't aim for perfection. TikTok is all about authenticity and in-the-moment relevance. Users prefer their content a little raw 65% of users agree that professional-looking videos from brands are out of place. In our journey to grow our TikTok following to 12.3k followers, we learned that our less-polished videos performed best!
Make it snappy. While TikTok videos can now be up to 10 minutes long, brevity is your friend. Earlier in 2022, a trending #sevensecondchallenge showed that concise videos with lots of text were getting massive engagement. We tried the seven-second TikTok challenge ourselves — and it worked! While you don't need to go that short, the best length for a TikTok video is 7-15 seconds.
Learn the lingo. What is "cheugy?" Why does that funny video have so many skull emojis in the comments? Figuring out how to talk like a TikToker is key to fitting in. Fortunately, we made a vocab cheat sheet for you.
Conclusion
Whichever platform you choose, it looks like the vertical video is here to stay. But you don't have to sit on the sidelines. You and your brand can capitalize on this change. Adding vertical video to your marketing campaigns will increase your engagement across platforms and grow your business.